Automatic Pirn Change Weaving Loom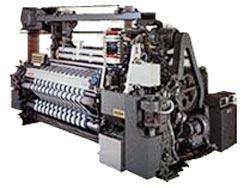 Automatic Pirn Change Weaving Loom
Product Description
As an eminent enterprise, we manufacture, export and supply Automatic Pirn Change Weaving Loom that is manufactured using world class components as per the set industry norms. It is available in different specification sas per the application requirements of the clients. This weaving loom is used to weave various types of fabrics in different garment mills. Our team of quality checkers thoroughly tests this Automatic Pirn Change Weaving Loom on various parameters to ensure consistent performance.
Features:
Smooth operation

Long functional life

Minimum maintenance

Compact design
DISTINCTIVE FEATURES

No-Man Operation
No-Man operation is possible due to the large- packaged Magazine for 40 pcs. of Weft-Pirns, and newly developed "Weft-End-Drawing Device".
"Weft-End-Drawing Device" : At the time of automatic weft-pirn changing, the weft-end of new pirn is drawn out penetrating through the weft-tension on the shuttle. Hence, is absolutely no-knot on the weft yarn without any trouble when the weft -pirn is changed.

Shuttles and Weft-Pirn Bobbins
Standard Type of Shuttles and Weft-Pirn Bobbins are used for all kinds of yarns, and then, efficient and high-quality weaving is very easy.

No-Faults on the woven cloth
Due to the disposing device of remnant weft yarn, no-appear on the woven cloth. Moreover, its interval time for cop-changing is only about 9.5 seconds for 60Hz.

Multi-Colour Weft Yarn
Unique type of its Cop-Magazine enables this Loom to have 1x1,2x1 and 4x1 shuttle-box, so that multi-colour weft yarn weaving may be possible and easy.

Micro-Computer Control Cam Mechanism
Cop-Changing Device is of Micro-Computer Control Cam Mechanism which is of easy maintenance and operation.

SPECIFICATIONS


Driving

By Push Buttons With 0.75 KW Brake Motor.

Warp Feeler

By Optical-Electric Tube Feeler for Warp Fluff.

Taking-Up Motion

GML Type Pickle's & Indirect Taking-UP.

Shuttle Size




* (a) CM-5 Type -45W x 35/36
H x410 L. m/m.
* (b) CM-8 Type -48W x 39/40 L.m/m

Letting Off Motion

*(a) KBL Type Separate Frame Letting-Off.
*(b) GML Type Separate Frame Letting-Off.
*(c) GMS Type Single Attached-Frame Letting-Off.

Beating Motion

Fast Reed Systems With Reed Line Adjuster

Picking Motion

Center Picking Systems
*(a) Cop-Changing Magazine Side: Leather & Oil Buffer.
*(b) Multi-Shuttle Box side Auxiliary Stick & Buffer

Shedding Motion




*(a) Plain Shedding
*(b) Dobby Shedding
*(c) Jacquard Shedding


Pirn-Bobbin Magazine

*(a) Single-Row Continuous Selecting Type for 40 Pirns.

Automation Control

By Sequence Cam Control System with 0.1 KW Motor . (300M)

Weft Feeler

By Optical-Electric Tube Feeler (HDK-B40S Type)

Reed Space

(In Inches)26,34,37,39,44,47,51,53,
56 ,59,63,65,67,72,76,80,83,86,and 90

Weft End Blower

0.42 KW Friction Motor Blower.

Feeler for weft Yarn Breakage

Electric Infrared Non-Touch System Side Fork.

Weft End Cutter

*(a) By Heat Cutter.
*(b) By Mechanical Cutter.

Shuttle Box

*(a)1x1
*(b)2x1
*(c)4x1

( * Mark Means Options )
Specifications, Equipment And Descriptions Are Subject To Change Without Prior Notice.